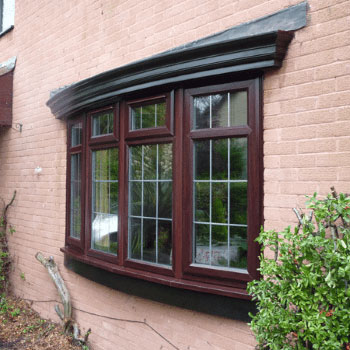 What to consider when looking for new windows?
Posted. 27 April 2021
Tags. Windows,
Ready to buy new windows, but don't know where to begin? Don't worry, we're here to help. If you've had your panes for around 20 years, you'll find that the window industry has come a long way since you were last window shopping…
There are lots of new styles, colours, and glazing options available, so you might be missing a trick if you just replace like for like.
Want some expert advice? In this guide, we'll discuss everything you need to consider when purchasing new windows. We'll be talking frames, panes, cost, security and more. So let's get into it…
Frame Material
Your window frame (quite literally) holds everything together, so it's important to give material choice some thought! Choose your material according to your priorities and think about whether you want your budget or aesthetics to guide your decision. 
uPVC
uPVC is an incredibly popular window frame material. Just take a walk around your local area — most of the windows you see will be uPVC. Why do homeowners love it so much? As well as being durable and insulative, it's one of the most cost-effective options available. Plus, you can buy it in a range of colours and wood-grain effects.
To sum it up:
Budget-friendly (but doesn't look like it)

High performing

Comes in colours and effects to suit any aesthetic
Aluminium
Aluminium frames will cost you a little more than uPVC frames. But if you're looking for a light, sleek option, then they're well worth the investment. As aluminium is extremely strong, the frame can be made slimmer than uPVC frames of the same size. This means that if you have a modern property and stunning views, you can achieve a large glass surface area — maximising unobstructed views and letting in lots of light. It's also more long-lasting than uPVC and available in a range of colours.
To sum it up:
Pricier than uPVC

Great for creating a large glass surface area

Particularly well-suited to modern homes
Whatever frame material you choose, just make sure you purchase through a reputable provider. Low quality, poorly fitted windows aren't going to stand the test of time, whatever the material. 
Window Style
When thinking about window style, you'll want to consider the aesthetic of your whole home and the room you'll be installing your windows in. 
Do you have a cottage-type home? Sash or French windows are popular options that help to create a homely, traditional look. If you have a modern home, consider Tilt & Turns or Flush Casement Windows.
If you need a practical option for your kitchen, Tilt & Turns are great for this too. If you need to replace your bathroom window and want to preserve some privacy (while still allowing ventilation), top-hung Casement windows with frosted glass are a safe go-to. 
Take a look at your options in greater detail on our website or download our brochure. If you want to see some examples in person, drop by our Weston-super-Mare showroom — we can chat you through the pros and cons of each style.
Energy Efficiency
If there was a guide to making an energy-efficient window, double glazing would be step one! Luckily, any reputable provider will make their windows with double glazing as standard (partly because all new windows must comply with UK energy efficiency guidelines). You should still double-check that your windows are double glazed and if a provider tries to convince you that single glazing is the norm — run a mile!
High-quality, properly installed double glazed windows will:
Reduce your carbon footprint

Keep your energy bills low

Make your home more soundproof

Provide greater home security than single-glazed panes

Comply with UK energy efficiency standards
If you live somewhere that gets particularly cold, consider taking things up another notch with triple glazing. It's just like double glazing, but with an extra layer of glass (and an extra Argon-filled gap) to provide even more insulation.
At Perfecta, we make our windows with A-rated double glazing as standard. Plus, our years of experience means we've nailed the ideal gap size between our panes for optimum insulation. Of course, we also offer triple glazing and our Super Energy Efficient glass, so give us a call to discuss your options.
Cost
Everyone has a budget to work with when it comes to home improvements — we get that! We're not going to convince you to buy the fanciest panes on the market. We're here to advise you on the ideal frames for your needs.
This being said, windows are an investment — they'll be a permanent fixture in your home for around 20 years. If the best option for you is a little pricier than you were hoping, it might be worth paying up now to get a product that you're happy with (and won't need to replace anytime soon). At Perfecta Windows, we have flexible finance options to make this a little easier.
Colour
Window frames don't have to be white — even though a walk around your typical suburb will show that lots of them are! The colour of your windows can completely change the look of your home's exterior, so it's worth considering all your options.
We offer a wide range of colours, from elegant Chartwell green to contemporary grey. We also have realistic wood-effect colours, so you can take advantage of budget-friendly, durable uPVC whilst enjoying the aesthetic of natural wood.
Take a look at our standard and premium range.
Conservation Restrictions
Do you live in a conservation area? If so, you'll have some restrictions on your window options. Usually, replacement windows have to match the building's original character, which means you have to install a particular style and colour.
If your property has wooden frames, wooden-effect flush casement windows are often a safe option. Or, if your home has steel frames, these can usually be replaced with aluminium windows. 
You can check your conservation area requirements by contacting your local authority. Once you know what you're working with, you can give us a call to discuss your options.
Decorative Glass
Windows don't have to be boring. In fact, they're a great way to bring some personality to your home's exterior. What's the best way to do this? Decorative glass!
Whether you just want to add some statement colour, incorporate traditional leading, or install frosted glass, we have a wide range of decorative glass styles.
We particularly love the look of Georgian bars, which give your windows a striking look without making them any more difficult to clean.
Security
If your new windows are properly installed by a reliable provider, they should be perfectly secure. Still, there's no harm in looking into the locking mechanism and type of glass used in your prospective windows.
For example, we use the Nico Shootbolt security system, which provides exceptional strength and resistance to force. This system is also corrosion-resistant, which is beneficial for coastal properties that have to contend with that (lovely, but sometimes problematic) 'sea air'.
If your provider is affiliated with an external security initiative — even better. which is an official police security initiative working to improve the security of buildings by providing a recognised standard for windows and doors.
If you've had a break-in and want some extra reinforcement in your ground floor windows and doors, you can ask your provider to install toughened glass. 
Glare from the sun 
Are you dealing with glare from the sun? This is a common issue with large windows and conservatories. It's nice to soak up those rare rays when you're out and about, but they can really get in the way of any work (or Netflix watching) you're doing on a screen.
The best solution? Glass with UV filters. Look out for this feature in your new windows and you'll find it much easier to use your laptop or TV at any time of the day. As a bonus, these filters will also stop the sun from damaging your furniture and books — win-win!
Maintenance and Cleaning
You'd struggle to find someone who truly enjoys window cleaning. If there's any way to make this chore easier, we're all for it.
Certain styles are easier to clean. For tricky-to-clean higher floors, we recommend Sash windows that tilt inwards, Tilt & Turns, or French windows that can be cleaned with minimal hassle from the inside.
At Perfecta Windows, we also offer self-cleaning glass — which really is as magical as it sounds. With a specially designed film that breaks down window dirt, accumulated grime easily washes off in the rain. Interested? Give us a call to learn more.
Keeping out draughts and noise
Well-fitted double glazed windows are a recipe for a draught-free, soundproof home. Why? Modern, newly fitted windows are likely to have an airtight seal, making it difficult for cold air and sounds from the street to sneak through.
Double glazing should do a great job at keeping your home noise-free, but if you've had serious noise issues in the past, consider our Stadip Silence laminate. This is specially designed to increase your window's sound insulation properties without making your window thicker. Don't mind thicker panes? You can also think about getting triple glazing.
Perfecta Windows
There you have it — our expert guide on what to look for when buying new windows. If you're ready to take the next step and browse your options, drop by our Weston-super-Mare showroom. Of course, you can always give us a call if you'd rather discuss your plans over the phone. To get the ball rolling, take a look at our brochure — you'll find lots of inspiration in there!